Wrought-Iron Front Doors



Wrought Iron front doors at Factory Direct Windows & Doors
Make an elegant statement by choosing wrought iron doors, a sophistically bent heated steel that takes home décor and security to the next level. Factory Direct have been manufacturing and installing iron doors around Montreal, South-Shore and Laval for over two decades, blending in the impressive juxtaposition of both old-fashioned and modern architecture style on the island. The wrought iron element gives your house an aesthetic boost that creates both comfortable and classic look.
Increasing Your Home Security with Extra-Durable Iron
Wrought Iron doors, however, aren't only known for their distinguished artistry style. The iron component is extremely durable and resilient to weather conditions, mold, fires or break-ins; giving your doors a long lifespan. They are an excellent solution for significantly increasing your home safety, security and privacy. Besides ensuring your protection, wrought iron doors are a great investment as they add value to your home.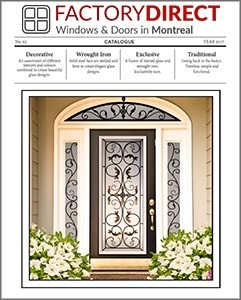 Different Design Options for your New Wrought-Iron Doors
We offer many design options for your wrought iron doors, you can choose the pattern that suits you best from our manufacturer's catalog. If you do not find a style that you like, do not hesitate to contact us for a free quote. Wrought iron can be easily crafted to any design that you like, to reflect your personal taste and match your existing home décor.
Not sure about upgrading to wrought iron, but absolutely love the style? Check out our decorative glass doors, we offer different wrought-iron inserts options with caming, which are less secure than iron, but equally beautiful. These come as well in various options including their shape and metal color. We also offer French doors, patio sliding doors, fiberglass doors, aluminum residential doors, exterior doors, garage doors, and other entrance doors.
Wrought-Iron Glass Inserts
Professional Door Installation Services in Montreal, Laval & South-Shore
Factory direct Montreal provides professional and clean door installation services. We ensure a well-insulated entry and patio door, so that you can enjoy functionality, savings and a durable product that comes with an exclusive warranty. Contact us for a free estimate 514-387-0001 or info@factorydirectmontreal.ca .