Finding the Window Treatment That's Right For You
Once you have a terrific window installed, you will want to give it a great looking treatment. For those not up on home décor, a window treatment is not some sort of cleaning or coating solution. Rather, it is a window covering that serves both a practical and aesthetic purpose.
On a practical level, window treatments keep out the sun and can help with the insulation. They also maintain privacy within the home. Treatments can also come in a variety of colors and styles that can take your Montreal home décor to the next level.
When it comes to window treatments, there are several options available. This article will explore those options so you can decide which works best for you.
Drapes
Drapes (or curtains) are made of a cloth material. They typically drape down from a curtain rod installed above the window to provide protection and privacy. They usually consist of two pieces of cloth that can be pulled apart from the middle to let in light.
Drapes are made of a variety of materials and fabrics giving you plenty of options when it comes to finding something that fits the aesthetic of your home. They can also come in a variety of lengths. Some homeowners will prefer those that end at the window ledge but sweeping drapes that come nearly to the floor provide a romantic look.
Shades or Blinds
These are both types of window treatments that must be ordered to fit your window. In most cases, they sit inside the window ledge so the right sizing is imperative. In some cases, blinds may be set outside the window frame but in these instances, they must be sized appropriately as well.
Blinds and shades differ in the type of material they are made of. Blinds are typically made of some type of wood, plastic or aluminum while shades are made of fabric. Blinds open using a rod that lifts each component to let in light while shades usually have some sort of cord that releases them to leave a part, or some cases the entire, window exposed.
Blinds and shades are typically available in white or neutral colors, but many designers are updating their collections to offer a wider color selection.
Valences
Valences are small curtains that are usually used in conjunction with another treatment such as a curtain or shade. (They may not work as well with blinds).
Valences appear as a sort of ruffle on top of the window and they hang from their own rod. They don't serve much function but rather have a purely aesthetic effect.
Window Treatment Materials
When considering window treatments, there are several materials to choose from. The material you are using will also come into play when deciding on a treatment that is right for you. Let's take a look at the options that are available.
Materials for Blinds
Aluminum: This is an affordable material and it also reflects light to keep cooling costs low. It comes in a wide range of styles and its great for adding a modern vibe to a home. On the downside, aluminum can easily become bent.
Wood: Wood blinds are expensive but many feel they are worth every penny. They are extremely durable and they have a unique appearance that adds a sense of sophistication to your rooms. They are also easy to care for. One drawback is that they won't hold up well in humid climates.
Bamboo: If you like the natural look of wood, but would rather do without the high cost, bamboo can be a terrific option. Bamboo is lightweight and eco-friendly making it a crowd favorite. It's extremely durable and its hairline cracks allow breezes to come through to reduce cooling costs. If you prefer more privacy, you can add a liner.
Vinyl: Vinyl is extremely durable and low cost. It holds up well in multiple climates. It comes is a variety of colors and adds a great, modern look to any room.
Faux Wood: Faux wood is another real wood substitute. It does not have the natural grain texture of real wood, but it is cheaper and it holds up better in a variety of climates.
Blinds can also be covered with materials like cloth and leather. Cloth is good for insulation and blocking out sunlight. However, it is difficult to clean and it can also absorb food smells in the kitchen.
Leather is terrific for giving your rooms a look of luxury but it is also extremely expensive.
Drape Materials
Polyester: Polyester is a great material for drapes. It is resistant to wrinkling and stretching and it is durable and affordable. Polyester curtains are also available in a wide variety of colors. However, you will want to avoid putting them in the kitchen because they are flammable, odor absorbent and limit air
circulation.
Linen: Linen curtains provide a clean, lightweight look for home interiors. They are somewhat sheer so they don't block the sun which is great if you like to let natural light into your rooms. On the downside, linen is typically dry clean only and prone to wrinkling.
Cotton: Cotton is a durable material that is easy to care for. Cotton curtains drape well and they are available in a wide range of blends so you are sure to find a material that works for you. Curtains with a tight weave will provide privacy and block out sun. If you want to let the sun in, opt for cotton curtains that have a thinner texture.
Silk Curtains: Silk has a stunning look that will add elegance to any room. However, it is quite difficult to care for. Silk is dry clean only and extremely prone to fading from the sunlight. If you love the look of silk but don't think you can keep up with the maintenance, faux silk may be a better choice.
Velvet Curtains: Velvet is a thick material so these curtains will be great for keeping out the light and it will also provide terrific insulation. On the downside, velvet is also dry clean only so you will need to treat these curtains with special care.
It All Starts with the Right Windows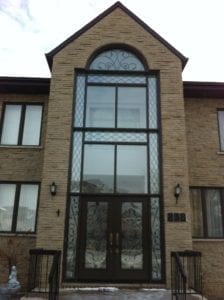 The right window treatment is important in getting your home looking its best and it can also help lower your energy bills. But it all starts with having a great window behind the treatment.
If you're looking for top notch windows in the Montreal area, Factory Direct Montreal is highly recommended.
Factory Direct Montreal serves Montreal, Laval, West Island, Longueil, Brossard and the surrounding areas. They have over 30 years of experience in the field of window installation. They can advise you on what windows work best for your home and back it up by providing high quality Canadian made products. All their windows come with a lifetime guarantee.
Hopefully this article has provided you with valuable information on finding the right window treatments for you home. But your window treatments will be nothing without the right windows behind them.
Contact Factory Direct Montreal for a window installation you can trust, and then throw some great looking drapes and blinds over them for an awesome finishing effect! We guarantee you will be happy with the results!
This post is also available in: Français