What Types of New Replacement Windows are Best for My Home in Montreal?
Are your windows becoming difficult to open and close? Are the not doing their job in keeping your rooms cold or warm? Are the showing signs of damage?
These are all signs that you may need new windows.
There are many considerations a Montreal homeowner needs to make when they are in the market for new windows. One major decision involves choosing what type of window you would like for your home.
This article will review the different types of windows and give you information on making an informed choice about which you should go with.
What Do I Need to Think About When Deciding Which Window is Best for My Home?
There are many things you will need to think about when deciding on a type of window that will work in your home. Here are some factors you will want to consider:
How easy is it to clean?
Does it look attractive?
How easy is it to open and close?
How will it work with the existing set up of my rooms?
What Are the Different Types of Windows?
While we can't tell you which type of window will be best for your home, we can give you information on the different types of windows that are available. Here are some you can choose from.
Double and Single Hung Windows:

Double hung windows have two panes of glass that can slide up and down. They can open wide from the top or bottom but they won't extrude from the interior of the house. Double hung windows are easy to clean because both panes can be tipped inward and cleaned from indoors.
Single hung windows have a similar design to double hung windows, but the top pane is stationary. This limits options when considering opening the windows and it also makes them more difficult to clean.
Casement Windows: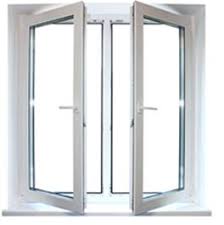 Casement windows operate by cranking outwards and they have a hinge on either side. They are great for giving a streamlined, modern look to tall narrow spaces.
Casement windows are ideal for energy efficiency because they seal tightly. They are also easy to open, close and clean.
Some drawbacks of casement windows include the fact that their design does not allow for a mounted air conditioner or any type of screen.

Awning Windows: Awning windows have a hinge at the top allowing them to open outwards and let in air from the left, right or bottom. They can be installed alongside stationary or operating windows.
Awning windows have an adjustable panel making it easy for you to regulate the air flow in your home. They also have a standard hood that keep the elements out so you can leave them ajar during a summer rain shower.
Stationary Window:

Stationary windows don't open but they are great for letting light into a room. They work well in spaces that could benefit from natural light, but where airflow isn't necessary.
A hallway could be an ideal spot for a stationary window as people generally don't hang out in hallways for long amount of time making the need for airflow minimal. Yet a stationary window can provide a magnificent view for passers-by.
Stationary windows can also be ideal in rooms where there are a lot of windows including some that are stationary and some that open.
Because stationary windows are often paired with operational ones, they have larger and thicker frames that allow them to match the site lines of operational windows. This feature makes them appear bolder and more defined making them great choices for contemporary and modern homes.
Picture windows are a type of stationary window. They feature a low-profile frame to maximize the glass surface. They are known to provide unobstructed views and are commonly used as a decorative focal feature in living rooms and bedrooms.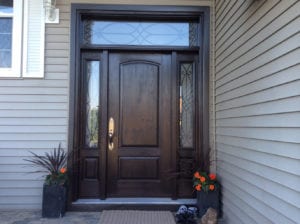 Transom Windows: A transom is defined as a horizontal structural beam that serves to separate a window or door from the window above it. Transom windows work well when featured on the top of almost any type of window and can add to the aesthetic of your rooms.
Transom windows can also add to the window's energy efficiency.
Transom windows were introduced in the 14th century in times before air conditioning was invented. People would open these windows to increase air flow in their houses.
Today, transom windows can still be used for the same purpose making them a great, low cost alternative to air conditioning. However, if you would like your transom windows to help cool your house, make sure they open! Transom windows can be operating or stationary, and obviously, the latter will do little good in keeping your house cool.
Transom windows also allow more light to enter the room; another advantage when considering energy efficiency.
Sliding Windows:

As the name suggests, sliding windows open by sliding from one side to another across a track. They are perfect for contemporary or modern style houses.
Slider windows are often found over kitchen sinks and in bathrooms. However, they are not ideal for areas that are prone to driving rain as they do little to keep the elements out.
Sliding windows can be double sliding or single sliding. With double sliding windows, both sides of the window open, but with single sliding windows one side is stationary. Double sliding windows are often preferred over the single sliding variety because they allow for more ventilation and are easier to clean.
Bay or Bow Windows: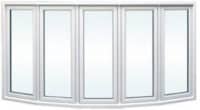 Bay and bow windows bump out and expand to increase your living space slightly. They also allow you to create a cozy nook and beautiful focal point to your room.
Bay windows differ from bow windows in that they consist of three frames or openings arranged at a specific angle. The frames can be opening, stationary, or a combination. They are recommended for modern or contemporary style homes.
Bow windows have four or more frames or openings. They are often arranged in a curved manner giving homes a Victorian era inspired appearance.
How Do I Find the Window That is Right for My Home?
Hopefully this article has given you information that can help you make an informed choice when determining which type of window is best for your home. However, if you are still confused, we advise you go to home improvement stores to see what models you like best, talk to professionals and do some additional research.
From there, you can get some quotes to determine what fits your budget and talk to customers who bought similar products to find out if they were satisfied with the product, service and window installation.
Having a trustworthy contractor on your side can also be helpful. If you are looking for new windows for your Montreal home, Factory Direct Montreal is highly recommended.
Factory Direct Montreal has decades of experience in window installation. They work with their customers from the beginning helping them to find a product that best suits their lifestyle. They follow it up with great communication, unbeatable service and a seamless installation process.
Read more about windows and doors guidelins from the city of Montreal here.
Getting new windows from your home is a major undertaking. Factory Direct Montreal can make the process as stress free as possible. Contact us today to find out how they can get your home looking its best.
This post is also available in: Français